Overview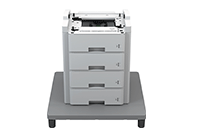 High-volume tower tray
The MFC-L8900CDWMT combines the great features of the MFC-L8900CDWMT multi-function wireless laser printer with an upgraded paper capacity thanks to its additional 4 x 520 sheet paper input tower tray (the bundled Brother TT-4000) plus a tower tray connector (the Brother TC-4000) to make your printer truly ready for business. With its over 2,000 sheets capacity, less time can be spent replenishing paper, maximising device up-time and office efficiency.
Combine the boost in paper capacity with impressive scan and printing speeds as well as an easy to use touchscreen at your fingertips and you can be sure that this multi-function printer will be a great asset to your paper heavy business requirements.
Better reliability
Built to perform for longer and meet the demands of high output work environments, Brother's latest colour laser range has been totally remodelled with robust build quality that's even more resilient and hardwearing.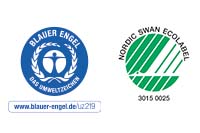 Eco-friendly
Brother's latest colour laser range is compliant with a number of environmental standards including German Blue Angel, and Nordic Swan. As a result, not only does it help your business work more efficiently, it is also more energy efficient, reducing impact on the environment and lowering your costs at the same time.