Normally Brother's PocketJets are used by sales people, consultants, service men and rescue service people, who needs to print documents in good quality while on the go. However, Brother's PocketJet printers also make their mark – literally – on hundreds of thousands of people's colourful body art.
Brother's printers are a big success with people with home offices, with many minor companies and in the public sector.
To think that Brother would also become a huge success in the tattoo industry was hard to imagine, and it did not cross the minds of Brother's designers and marketing people when they developed the company's
new PocketJet 700 series
of portable printers.
Today they are standard printers at skilled tattoo artists studios all over Europe and North America, where they use them to print the drafts that they use when making the tattoos.
American tattoo artists were the first to discover the potential of the thermo print technology that characterises Brother's PocketJet printers.
The idea did, however, quickly made it across the Atlantic, and today Brother's Pocket Jet family of portable printers are being used in thousands of tattoo studios all over Europe. Quite a few of them here in Denmark.
Here Brother has found a large, new and colourful client base for the slim PocketJets.
The printers are normally used by sales people, consultants, service men, and rescue service people, who need to print documents in good quality while on the go.
PocketJets are the future within tattoo art
The well-known English tattoo artist Paul Talbot is one of the happy users of a Brother PocketJet printer:
"PocketJet has completely changed the way I work. Today my Brother printer is just as important to my work as black ink," he says.
Like other tattoo artists, Paul Talbot makes his design on a computer, where the customers can pick from a large variety of designs, unless they want a tattoo made especially.
The final draft is printed on special stencil paper, so that he easily can transfer the design to the customer's skin.
"My PocketJet 700 is very accurate and detailed. At the same time it is robust and easy to carry with me when I perform my tattoo art, for example on festivals and at concerts here in England, in Europe and in the US." Paul Talbot explains
The 42-year-old tattoo artist has a background as a musician and graphic designer. His home ground is
the Modern Electric Tattoo studio
in Birmingham, but his fame and talent has made him a sought after gentleman internationally. Both with the public, that want new tattoos, and among colleagues.
Therefore, Paul Talbot has had several
videos made for YouTube
. Here he demonstrates how the Brother PocketJet printers make tattoo art easier and streamline the whole process from idea to finished tattoo.
"PocketJets are the future in the tattoo industry and just as important as disposable needles. The printer will soon break even and it is a thousand times better than the old way of doing things," says the British tattoo celebrity.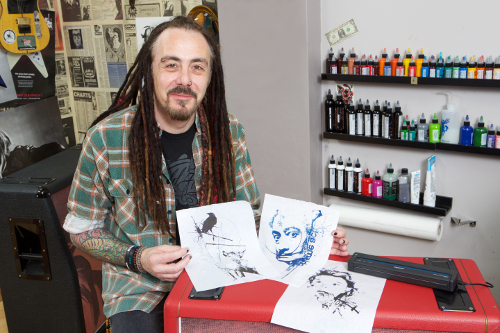 Six PocketJet models to choose from
As the demand rises and development continues in the market, Brother has extended the PocketJet family of portable mono thermos printers.
Today you can choose between six PJ-700 models, and of those three are especially well suited for tattoo artists, because they can print in high solution - 300 dpi.
They are all 255 x 55 x 30 mm and weigh approximately 610 grams. They can be equipped with an 11,1 volt Li-ion battery that can be bought separately. It runs for hours and hours on one charging.
Depending on the model, the PJ-700 printers have USB connector, wireless Bluetooth and/or Wi-Fi. The top model PS-773 can work with Apple AirPrint, Google Cloud Print™, Android Print, Mopria print directly from an Android smartphone and Brothers free application iPrint&Scan. It is available for iPhone/iPad as well as Android.
Prices and delivery
The portable printers in the PocketJet series are all available at Brother's many dealers around Denmark. PJ-722 with 203 x 200 dpi, USB, printable rage of 204,2 mm and download of templates cost 3.499 DKK. Excl. VAT (4,374 DKK. Incl. VAT).
PJ-762 as PJ-722, but also with wireless Bluetooth is priced at 3,999 DKK. Excl. VAT (4,999 DKK. Incl. VAT).
PJ-723 with up to 300 x 300 dpi, USB, and printable range of 208,8 mm cost 3,999 DKK. Excl. VAT (4,999 DKK. Incl. VAT).
PJ-763 as PJ-723, but with Bluetooth, costs 4,599 DKK. Excl. VAT (5,749 DKK. Incl. VAT).
PJ-763MFI as PJ-763 and with special adaptation to Apple iPhone and iPad are priced at 4,999 DKK. Excl VAT (6,249 DKK. Incl. VAT)
Brother PJ-773 as PJ-763, with Wi-Fi, cost 4,999 DKK. Excl. VAT or (6,249 DKK. Incl. VAT).
Further information
Nordic Marketing Director & Sales Director (Denmark) Henning Elkjær, Brother Nordic A/S, phone (45) 43 31 31 31, e-mail henning.elkjaer@brother.dk
or
Bomberg PR/Pure PR, phone (45) 22 67 25 27, e-mail leif@bomberg.dk