Overview
High-volume tower tray
The MFC-L9570CDWMT combines the great features of the MFC-L9570CDW multi-function wireless laser printer with an upgraded paper capacity thanks to its additional 4 x 520 sheet paper input tower tray (the bundled Brother TT-4000) plus a tower tray connector (the Brother TC-4000) to make your printer truly ready for business. With its over 2,000 sheets capacity, less time can be spent replenishing paper, maximising device uptime and office efficiency.
Combine the boost in paper capacity with impressive scan and printing speeds as well as an easy to use touchscreen at your fingertips and you can be sure that this multi-function printer will be a great asset to your paper heavy business requirements.
Better reliability
Built to perform for longer and meet the demands of high output work environments, Brother's latest colour laser range has been totally remodelled with robust build quality that's even more resilient and hardwearing.
Tighter Security
The advanced security capabilities of the MFC-L9570CDW*, ensures you are always in full control of your print infrastructure. You can improve data protection by restricting machine access with network user authentication, and secure function lock, which allows you to password-protect certain device functions. Plus, the NFC reader can be used to integrate with secure printing, enabling users to release their print job from any chosen device by swiping an ID card or entering a PIN.
(*Includes MFC-L9570CDW, MFC-L9570CDWT versions)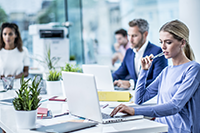 Putting you back in control of your print
A true print technology solution goes beyond hardware. We know control is integral when it comes to print costs. We make it easy with PrintSmart CostControl. It gives full visibility of who is printing what, and allows you to improve budgeting by setting print quotas and taking advantage of better reporting usage. You can upgrade to PrintSmart Secure Pro. It allows you to collect print data from connected devices to better understand how resource is being used in the office.
Eco-friendly
Brother's latest colour laser range is compliant with a number of environmental standards including German Blue Angel, and Nordic Swan. As a result, not only does it help your business work more efficiently, it is also more energy efficient, reducing impact on the environment and lowering your costs at the same time.